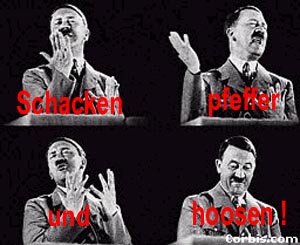 Learning more about various Deutschland words made Adolf very happy!
Adolf
Ze leader of Deutschland. Click here for more information.
Autobahn
Highways of Deutschland. Adolf is known to put people in Volkswagen, "take them on Autobahn, und shoot them!" Hans argued that it would be much cheaper to simply shoot ze enemies rather than waste und volkswagen, but Adolf disagreed. As punishment, Hans had to live with Lebanpfoffen for ze week.
Bill
Ze silent member of GMD. Click here for more information.
Bull
While not technically und word of Deutschland, ze bull is central to GMD. Deutschland kidnapped the Spanish president und his bull several years ago. Ze president was promptly shot, und his bull kept. Since then, ze bull has become ze figure of strength und power. If something ist very good, it ist "Good like bull!"
Bratwurst
The tastiest, most fattening sausage available in Deutschland!
Chirpenhoosen
Ze pet bird of Adolf! Picture is here!
Dusseldorf Spitzelpfoffen
Ze newest addition to ze GMD crew! Click here for more information.
France
France ist the mortal enemy of Adolf. It must be destroyed at all costs, und made fun of at even more cost.
"Cause I'm kinda like und frenchman, always stroking mein French Stick."
- Hattenschweiler Krauftenberg
Fritz
This ist an alleged meat product. It is good. Can be used as adjective: "Adolf ist good like Fritz!"
Hans
Ze brains of GMD. Click here for more information.
Hattenschweiler Krauftenberg
Ze host of Guten Morgen Deutschland! Click here for more information.
Ja
Yes. Pronounced "Yarr". As in "Ja, Adolf ist good like fritz!"
Kaiser
Ze previous ruler of Deutschland. He wore ze pointy hat, und always rode his horse, Noofenhoosen. Adolf did not like Kaiser.
Lebanpfoffen
GMD's Village Idiot. Click here for more information.
Luftwaffe
Ze air force of Deutschland. Used to attack France with.
Lunkenhausen
Ze muscle of GMD. Click here for more information.
McFuhrer's
Zis is ze national fast food restaurant of Deutschland.
Mein
My. As in "Mein Fuhrer has und first name, ist A-D-O-L-F!"
Nein
No. As in NEIN!
Noofenhoosen
Ze horse of Kaiser. After Adolf took power, Noofenhoosen was shot, fed to Lunkenhausen, und made into glue. Ze glue was then secretly fed to Lebanpfoffen.
Panzerhoffen
Ze army of Deutschland. Used to conquer France, und steal cheese from Switzerland.
Pfefferhoosen
A Deutschland swear word, invented by Adolf.
Reich
This, of course, is the great government/empire that Adolf leads!
"If it's not Reich, then its not Right!"
Schissenheimer
Also a Deutschland swear word, invented by Krauftenberg.
Schnapperhausen
What ze schnapperhausen is, ist completely und totally unknown. Ze identity of schnapperhausen is ze most pressing thing for Fuhrer, he must know what it is. Ze fact that Fuhrer does not know what schnapperhausen is, leads many to believe zat he did not invent it, like he says he did, but merely stole it, as Deutschland tradition dictates. But one thing is for sure, Deutschland could not be Deutschland without ze schnapperhausen.
Ze word Schnapperhausen can be used in various forms, since nobody knows what it is.
Schackenpfefferundhoosen
This ist most likely the same thing as Schnapperhausen, but nobody can tell for sure, since nobody knows what Schnapperhausen is.
Schackenpfefferundhoosenreichenbergundsteinenpoofenschausen
See "Schackenpfefferundhoosen".
Schackenfeeferleibendouseneinsariechenpfoofenschnauzenvackenluffenpanzer
hoffenschissenleadenduffenhoosenbackenfritzenschnapperalchendichenfozzen
mousenspekkenstoucstenboofenveevennapsterpottenhydrencathundfibren
deutchenheimerpfefferhausen
Ze world's largest Deutschland world. It took Krauftenberg 17 seconds to say in "Strong Like Bull". Zis word has nein meaning, it ist just really big.
The Reich Stuff
Deutschland's favourite (und only) breakfast cereal! Find out more here!
Wackentobaccenpoonzerhansenhoffen
Deutschland marijuana. Which Adolf stole from France.
Volkswagen
Ze only automobile allowed in Deutschland. Ze Volkswagen ist und important part of day-to-day life.