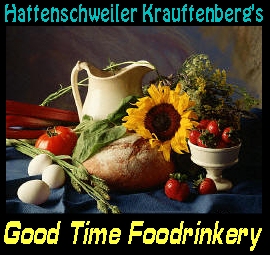 "Where you will have und good time, or we shoot you!"
Guten Morgen! Und velcome to ze newest addition to ze Deutschland economy! We here at Guten Morgen Deutschland know zat no successful - nein - EXTREMELY successful television show can go vithout ze spinoffs und such, so we are proud to open ze first Guten Morgen Deutschland themed restaurant.
Hattenschweiler Krauftenberg's Good Time Foodrinkery is ze place of choice if you are wanting to eat, or drink! It offers ze largest range of food und drinkables zat you will find in Deutschland.
Please to be perusink ze menu below. Soon we will have online ordering, so you can get ze goodest foods delivered to your door (via autobahn)!
Food Menu (you be clickink ze name for picture, ja?!)
The KrauftenBurger
Krauftenberg himself would not touch this burger in millions of years! But don't let zat stop you from eating ze KrauftenBurger! Made with recyled products, so you can save ze environment und eat good food at the same time! Despite what ze scientists say, ze KrauftenBurger is not proven to cause cancer! Better yet, if you should happen to contract ze disease, we will give you und signed picture of Lebanpfoffen!
Price: Ten Deutschmarks
The Reich Stuff
The breakfast cereal for Deutschland! You've heard ze song (if you haven't, go here, or you will be shot!), now taste ze cereal which everyone (well, Krauftenberg) is singing about! Nutritious, endorsed by Adolf - what more could you vant in und cereal?!
Price: Eight Deutschmarks
Schnapperhausen
While not technically food, it COULD be und food, as nobody knows what it is. Buy now, und help pay off Adolf's debt!
Price: Four Hundred und Sixty-Two Thousand Deutschmarks
Lebanpfoffen's Home Style Bratwurst
Just like Lebanpfoffen's mother used to make (until we put her in volkswagen, took her on autobahn, und shot her). Served with Hans' twenty secret herbs und spices. To not use ze spices would be to insult Hans.
Price: Fifteen Deutschmarks
Adolphin
Fresh from ze sea! Endorsed by Adolf! Side of endangered whale available on request!
Price: Forty Deutschmarks, as we need to fight Greenpeace to get this!
Drink Menu (you be clickink ze name for picture, ja?!)
Dusseldorf Spitzelpfoffen Beer
Now you too can be drinkink ze best selling beer in Deutschland! Endorsed by Dusseldorf himself, this beer ist STRONGER THAN FRITZ!
Price: Three Deutschmarks
Water of the Fuhrer
Some might say that zis is nothing more than regular tap water, but they do not know two things!
1. This water is FILLED with und spirit of Fuhrer.
2. As it is filled with ze sprit of Fuhrer, this water costs more. Much much more. But order it, or we will shoot you!
Price: Seven Deutschmarks